News
Buford students tour UVA Medical Center
February 3rd, 5:59 PM EST
CHARLOTTESVILLE, Va. (CBS19 NEWS) -- A group of seventh-graders from Buford Middle School traded in their textbooks for stethoscopes to learn what it takes to pursue a career in the medical field at the University of Virginia.
The UVA Department of Medicine sponsored the tour for students to give them a behind-the-scenes look at health care professionals helping patients.
The students took a tour of the UVA Medical Center and the UVA School of Nursing to learn how to find a pulse, take a patient's blood pressure, and perform an ultrasound.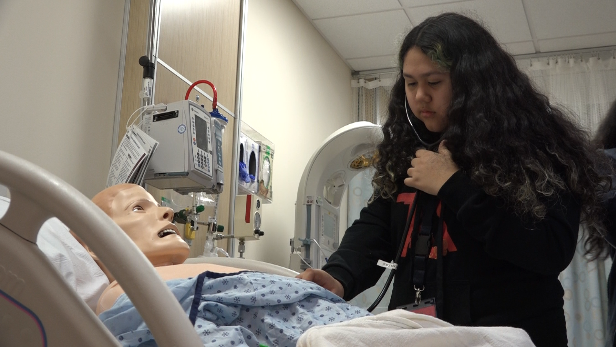 Ann Thompson and Margaret Vincel, two seventh-graders from Buford Middle School, were part of the tour and said the hands-on experience taught them some valuable lessons.
"Practicing on something like this makes it a lot easier and maybe you won't be as nervous," Vincel said. "I feel like I would be nervous my first time if I didn't have something to practice on."
"Taking your time to learn things is the way to like master it," Thompson said.
James Nisley was one of the educators who led students through a seminar about blood pressure.
He said the experience is valuable to show students a possible career option they could pursue.
"Exposing them to the options of what being a nurse is and as a profession of what that means and their opportunities are endless as a nurse," Nisley said.
He also hopes students can take advantage of an opportunity to become a nurse if they have a passion to help others.
"You have to have that passion and that desire to help others as you are working every day and the influence that you have on their lives," Nisley said.
Another group of students from Buford Middle School will take a tour of UVA Medical Center on Feb. 5.