News
Samantha Clarke case is now a murder case
Friday, January 15th 2021, 5:16 PM EST
ORANGE COUNTY, Va. (CBS19 NEWS) -- Orange County investigators say Samantha Anne Clarke's missing person case is now an abduction and murder case.
"Due to new information and advances in investigative and forensic technology, Samantha's missing person investigation has been reclassified as an active abduction and murder investigation," said Chief James Fenwick of the Town of Orange Police Department.

Nineteen-year-old Samantha Anne Clarke went missing on Sept. 13, 2010 and was never found.
Officials say she said goodbye to her brother and left her home with only her house key. At the time, investigators searched all over Central Virginia, including Chris Greene Lake and found nothing.
Now, there are new clues.

"Technology that was not available at the time Samantha went missing has allowed us to develop new investigative leads," said Fenwick.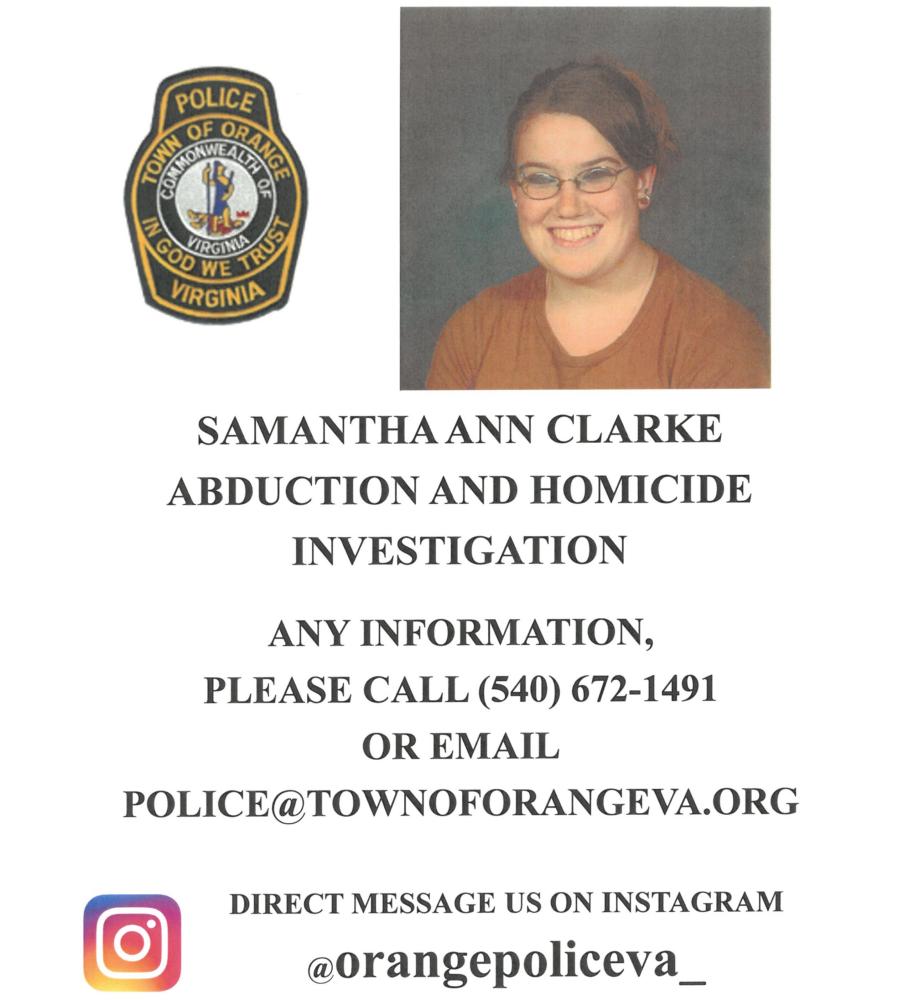 He won't say what technology produced these leads, or if there is a suspect, but Fenwick says investigators are close to getting the answers they've needed the past ten years.

"We've always felt like we're close, in my opinion, because we've been working on this from the time it was reported to us initially on Sept. 15, 2010, which is when we actually received a report," he said.

At the time, Randy Taylor, who is currently in prison for the murder of Alexis Murphy in Nelson County, was considered a prime suspect in Clarke's disappearance, but now, Fenwick wouldn't say if Taylor is still under investigation.

"It's no secret that Randy Taylor was one of the last people to have contact with Samantha Clarke. Beyond that, we're not going to comment any further," he said.
Fenwick says he believes people in the community could possibly have more information and wants the public to know it's not too late to come forward.

He could not release any more details of the investigation but says Orange County is a tight-knit community and they're not giving up.

"At this point, one of our own is missing, and it's my job, the job of all of our law enforcement officers, and prosecutors, and whoever, to work together to get one of our own back," said Fenwick. 
Fenwick says if you know any information regarding Clarke's disappearance, you are asked to contact the orange county police department at (540) 672-1491 or by Instagram messaging at @orangepoliceva_.