News
Walker's social media post briefly removed by Facebook
CHARLOTTESVILLE, Va. (CBS19 NEWS) -- A controversial post on Charlottesville Mayor Nikuyah Walker's Facebook account is causing a stir.
The post was briefly removed by Facebook for violating community standards. However, Walker went to Twitter to show in a tweet what she had posted.
The post from Facebook below, with some words that may be considered offensive blurred.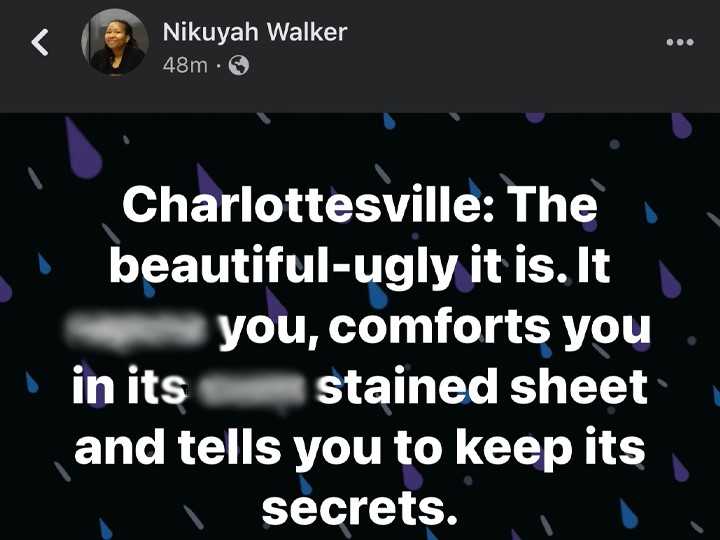 The post has garnered a mixed reaction from community members. Some say it's meant to be eye-catching and uncomfortable to get the message across, while others are saying it takes things too far.
"I have to speak candidly and honestly. I mean, it's hurtful, I think it is offensive, I think it is over the line," said Councilor Michael Payne. "I've heard from multiple community members who have been survivors of sexual assault and sexual violence, and seeing this kind of language is just extremely hurtful to them."
Charlottesville resident Laurence Mann says his friends in Tennessee sent the post to him.
"If I'm fielding calls and text messages from people that don't even live in the state, you know, it's an indictment on all of us. It truthfully is," Mann said.
The choice of language eventually led to Facebook banning Walker from going live or advertising for a month, until the ban was lifted shortly after, according to Walker's social media.
"Everyone has a right to post what they want, to say what they want. I'll never argue that with you. But to have a mayor, someone of that public status to post something like that, to be honest, I was just honestly disgusted and just a little bit disturbed by it," Mann said.
Several other community members, like Don Gathers, said they understand the message behind it.
"The method that she chose to convey that, if people just get locked in on that, and don't look at the substance behind it, then they've missed the entire point," Gathers said.
He adds that Walker has been under immense pressure and scrutiny and that the post illustrates the point she's trying to make.
"They say that people like to remind you that pressure bursts pipes. Well, it also creates diamonds, and we have to be reminded of the diamond that is Mayor Walker," Gathers said.
While Payne said he doesn't want personal conflict to distract from the real work that needs to be done, he said the message does not represent Charlottesville.
"Anyone can speak individually on their own behalf, but it certainly doesn't reflect the values of the city," Payne said.
City Spokesperson Brian Wheeler and other members of the Charlottesville City Council said they did not have a comment at this time. Payne said the city hasn't indicated whether or not it'll be releasing an official statement.
Walker has not responded to a request for comment at this time.