Sport - NCAA
Newell dedicates memorable home run in friend's memory
CHARLOTTESVILLE, Va. (CBS19 SPORTS) -- In a sea of navy baseball cleats, a pair of orange Jordan 1 mids stands out.
"This is really like the first pair I was able to get my hands on and get spikes them and wear them on the field," said UVA junior outfielder Chris Newell. "I think it gives me a little bit more of a swagger and contributes to having a fun attitude and playing loose."
Just a couple of weeks ago, the custom cleats took on a whole new meaning when he added three letters in marker: J-O-E.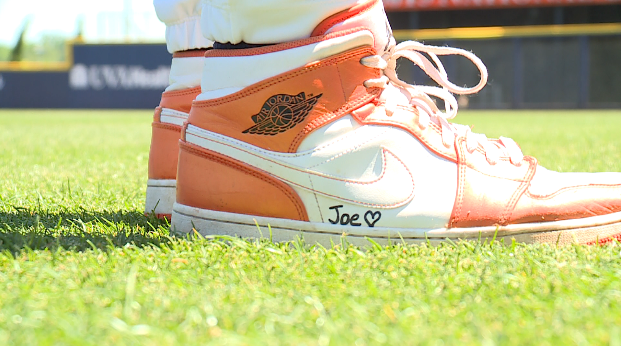 "He's one of my dad's really good friends and they have two sons with special needs that I'm really close with," said Newell.
"It's been a long time and he's like a fifth brother to me. He's the best friend I ever asked for," said Luke Catania, one of Joe Catania's sons and Newell's friend.
Joe Catania began the Challenger Baseball League in their Pennsylvania hometown, giving kids and adults of all abilities the chance to play ball.
"He's the greatest dad, greatest coach ever been," said Luke. "What position do you play," asked Jimmy Catania, one of Joe Catania's sons. "Oh, I play anywhere my coach would tell me to."
Newell coached alongside Joe for many years.
"I learned a lot about life and just appreciating what you have," said Newell. "The Challenger League says a lot about Joe and his legacy in our community at home. He was a really impactful person in my life and somebody that I always looked up to."
Joe, Jimmy, Luke and the rest of the Catania family would come to see Newell live out his baseball dreams at UVA.
"They were sitting right up there and I hit a home run on Friday in the ninth and just seeing their faces of how happy they were for me, was just really cool," said Newell.
A prominent community member, coach and father, Joe was diagnosed with brain cancer.
"We were coming home last Friday [April 29], my dad was fighting it so we're praying, come on let's do this, let's knock it out," said Luke. "And then he says, 'Luke and Jimmy I've got some bad news to tell you.' He said, the doctor found something in his brain. He said he's not going to make it."
On May 1, while in the dugout in the series finale against Virginia Tech, Newell checked his phone and saw a text from Luke with the news of Joe's passing.
"I wore the shoes on Sunday and I wrote his name on them," said Newell.
He grabbed a Sharpie and wrote "JOE" on the outside of his right shoe, and then the memorable moment continued when he went up to bat.
"My first at-bat, I went up to the plate and I wrote his initials in the dirt. And I hit a home run and it was one of the coolest things I've ever done in my baseball career," said Newell.
"When he hit the first pitch. He was like boom, we were like, 'Oh my God he's going to hit it right for my dad,' home run, the greatest," said Luke. "It was a miracle, he pointed right up. That's for you, Joe."
Newell and the Catania boys have a permanent reminder of Joe on their shoes, or on a patch on their Challenger League jerseys, and always in their hearts.
"Through the rest of the season, he's going to carry his name right there," said Jimmy. "Right here right now, watching the game," added Luke.

"I know that they really appreciated it and I know that Joe Catania is up there watching over me for the rest of my career," said Newell.