News
State average per gallon of gas dips below $4
RICHMOND, Va. (CBS19 NEWS) -- For the first time in three months, the average price per gallon of gas has dipped below $4 in Virginia and in several of the Commonwealth's metro areas.
AAA Mid-Atlantic reports the state average reached $3.99 on Sunday, and the last time the average was below the $4 mark was on April 29.
According to a release, the state average is down 14 cents in a week and 66 cents over the last month.
It is also down 87 centers from the all-time record high of $4.86, which was set on June 14.
However, the current average is still more than $1 higher than this time last year.
"We know that most American drivers have made significant changes in their driving habits to cope with high gas prices," said Morgan Dean, AAA Mid-Atlantic spokesperson. "But with gas below $4 a gallon at nearly half of the gas stations around the country, it's possible that gas demand could rise."
For Charlottesville, the average price is down 10 cents from last week to $3.90.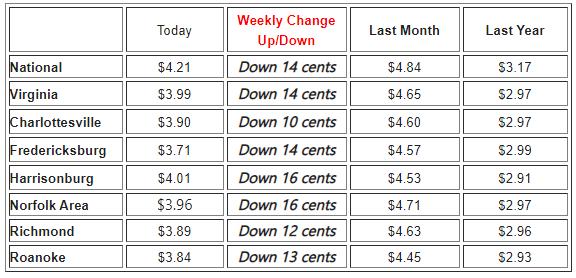 Across the country, the average price per gallon is down to $4.21, but a slight uptick in demand could end the drop in prices.
The Energy Information Administration says gas demand increased from 8.52 million barrels per day to 9.25 million barrels per day last week.
This is about 80,000 barrels per day lower than last year, but it could still slow price decreases.