News
Albemarle Education Association wants COVID leave for ACPS staff
August 24th, 12:10 AM EDT
ALBEMARLE COUNTY, Va. (CBS19 NEWS) -- Albemarle County Public Schools removed COVID-19 leave time this year, but now a local teacher's union is pushing back. 
"We provided for 10 days of COVID leave for employees and that expired June 30 of this year," said Phil Giaramita, Public Affairs and Strategic Communications officer for ACPS.

The Albemarle Education Association, or AEA, doesn't like this new policy. The teacher's union wrote a letter saying "the decision not to extend COVID sick leave policies for employees is reckless and unfair."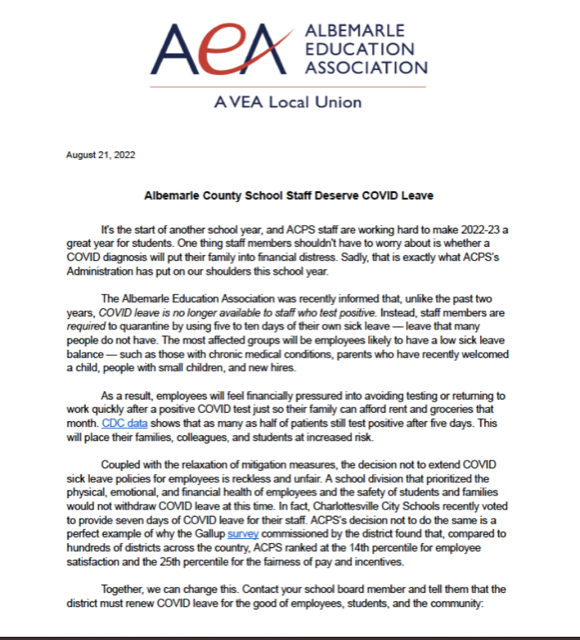 "Our thinking about the expiration date on June 30 was that we were moving to a different phase of the pandemic," said Giaramita. "We were moving from a pandemic to an endemic."

Without leave, AEA says employees will feel financially pressured into avoiding testing or returning to work quickly after a positive test. However, Giaramita says they have other options

"Well they have sick leave, every employee accumulates sick leave," he said. "We have one day a month of sick leave."

The district also has what Giaramita calls a "sick bank" where staff members can give up some of their sick leave so that others could borrow it if needed.

The additional COVID sick leave provided 10 extra days off for teachers who contracted the virus.

"Based on the input we received from AEA, we are taking another look at it and it is getting some serious discussion," said Giaramita. "As a matter of fact, we talked to some AEA representatives today about this idea."
The Albemarle County School Board meeting is Wednesday, and one of the topics that will be discussed is this one.