News
BRHD: Respiratory viruses spreading quickly throughout region
Friday, November 11th 2022, 3:27 PM EST
CHARLOTTESVILLE, Va. (CBS19 NEWS) -- Health experts say influenza and respiratory syncytial virus (RSV) are spreading rapidly.
The Blue Ridge Health District says these respiratory viruses are spreading earlier than usual this season and many hospitals are already nearing capacity due to an increase in patients sick from respiratory illnesses.
This is on top of ongoing COVID-19 cases that are still being reported throughout BRHD's service area.
According to a release, Virginia has seen more cases of flu in the past week than have been seen in any other one-week period over the last few years.
Both flu and RSV are spread in similar manners, including direct contact with a sick person or through inhaling droplets from a sick person while talking, sneezing or coughing.
While both can also be spread by touching a contaminated surface and then touching the eyes, nose or mouth, BRHD says RSV is more likely to spread in this manner than flu.
There is overlap regarding the main symptoms of all of these viruses, so BRHD has shared this graphic to help people understand what differences there are.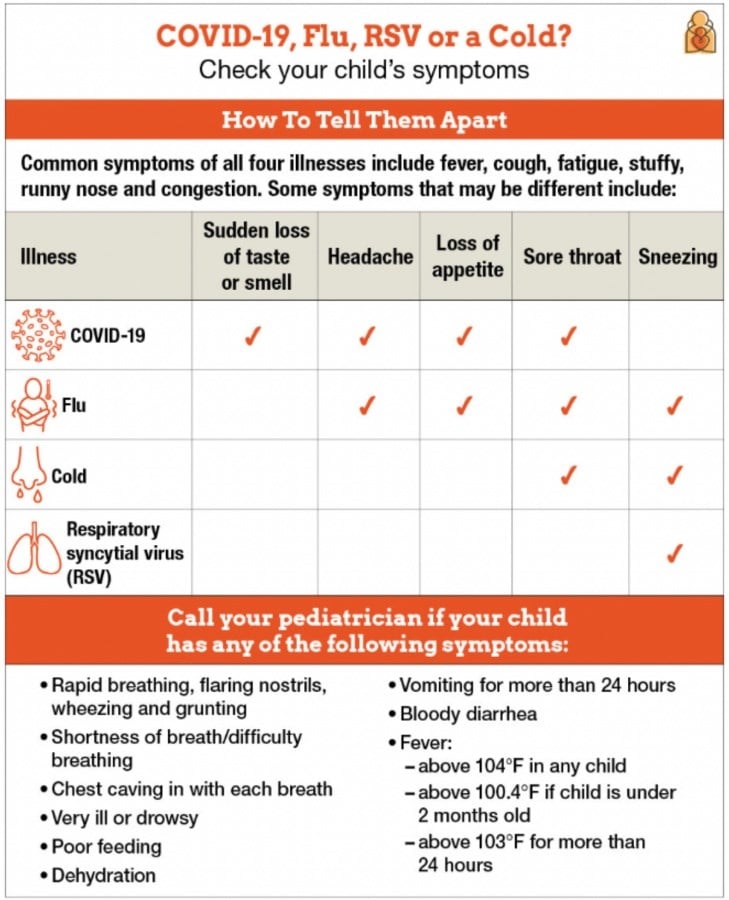 For more information regarding the differences between the viruses, click here.
When it comes to prevention, health officials are urging people to get vaccinated against the flu and COVID-19. There is currently no vaccine available for RSV.
"The best way to reduce the risk of flu and its potentially serious complications is to get vaccinated each year," said State Health Commissioner Colin M. Greene, MD, MPH. "This is why I am encouraging Virginians to receive their annual flu shot and practice preventive healthy habits." 
Severe illness can lead to major complications for certain groups.
For RSV, those who are most at risk are infants under 12 weeks old, babies with chronic health conditions or immunocompromised babies.
For flu, very young children, the elderly or people who are immunocompromised are at the highest risk.
Frequently hand washing, staying home when not feeling well, coughing and sneezing into an elbow instead of the hand, avoiding close contact with others and not sharing items, and masking in public spaces or around those who are at high risk are among recommended prevention measures.