News
Third victim found in submerged vehicle, search continues in Nelson County
December 28th, 7:57 PM EST
NELSON COUNTY, Va. (CBS19 NEWS) -- The Virginia State Police reports three people have now been confirmed dead in connection with a submerged vehicle that was found in Nelson County.
VSP troopers and crews from Charlottesville, Nelson County and Albemarle County responded to the scene around 11:40 a.m. Tuesday.
"A small land search was conducted where two individuals were located deceased on the shore. The vehicle was removed via tow truck and inside the vehicle, another individual was found deceased," said VSP Sergeant Jason Cappo.
The bodies found on the riverbank were of an 11-year-old male and a 17-year-old male, and the body found inside the SUV was that of a 30-year-old male.
VSP reports none of the people who have been found dead were related. All three bodies have been taken to the Medical Examiner's Office in Richmond to be autopsied and identified.
As of Wednesday, the VSP Search and Recovery Team, VSP Aviation Division, the Virginia Department of Emergency Management search teams, the Virginia Department of Wildlife Resources and the Nelson County Sheriff's Office are still looking for two more people.
"It is believed based on our investigation that there are two individuals that are still missing that were in the vehicle at the time it had gone into the water," Cappo said. 

VSP is using boats with sonar scanning capabilities to search the riverbed. 
The vehicle was found in the Rockfish River near the intersection of Bridgeport Lane and Johnson Hollow.
At this time, VSP says work is underway to determine when exactly the vehicle was washed off the road and into the water.
So far, officials say it appears that a 1997 Toyota 4Runner tried to cross the flooded Rockfish River at a low-river crossing on Bridgeport Lane and was swept away by the current.
Officials said locals report that this crossing is used somewhat frequently when the water levels are lower. 
The crossing is located on private property.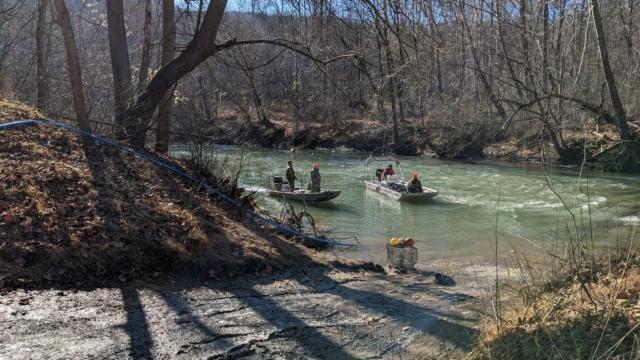 This incident is still under investigation.