News
DMV: Preliminary data sees increase in traffic fatalities involving commercial vehicles in 2022
January 10th, 4:03 PM EST
RICHMOND, Va. (CBS19 NEWS) -- The Virginia Department of Motor Vehicles says there has been a significant increase in the number of fatal crashes in the area.
According to a release, that includes a major increase in the number of people killed in crashes that involved commercial motor vehicles across the Staunton region.
Preliminary statistics show that as of Dec. 31, 33 people were killed as a result of crashes involving a commercial vehicle in 2022, up from 11 in 2021.
Responding law enforcement officers reported the majority of these crashes were caused by actions taken by the driver of a car rather than the commercial vehicle.
"Drivers of cars and other passenger vehicles must remember to respect the size and limitations of large commercial vehicles such as tractor trailers. These trucks simply can't stop as quickly as a car can and they have big blindspots you should avoid," said Acting DMV Commissioner Linda Ford, the Governor's Highway Safety Representative. "Never cut into a truck's safe following distance and always make sure to signal your intentions early so the truck driver knows where you are headed next."
Data shows there were a total of 154 traffic fatalities in the Staunton region, which includes the counties of Albemarle, Greene, Nelson, Madison, Orange and Fluvanna, in 2022, up 17.6 percent from the previous year.
Increases were reported in unrestrained fatalities (up 13 percent), alcohol-related fatalities (up nearly 23 percent), speed-related fatalities (up 25.5 percent), and motorcycle fatalities (up 72.7 percent), as well as the fatalities involving commercial vehicles.
However, there were declines in fatalities involving bicycles, distracted driving, teen drivers, and older drivers.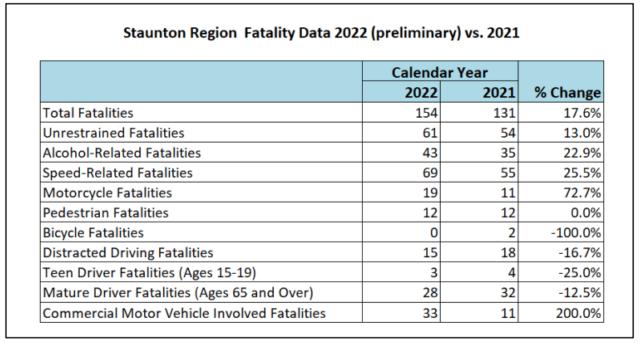 Across Virginia, nearly 1,000 people were killed in crashes in 2022, up three percent from 2021.