Sport - NCAA
UVA Track and Field welcomes newest member through Team Impact
Tuesday, May 2nd 2023, 10:26 PM EDT
CHARLOTTESVILLE, Va. (CBS19 SPORTS)-- UVA Track and Field made a new edition to the team Tuesday evening. Their newest, highly sought after recruit is 12 year old Benny Will. Benny signs with UVA by way of Team Impact, an organization that matches children facing illness to college sports teams.

"If you look at the faces of all the kids today, the student athletes on the UVA team, they all really care about the community and care about being apart of something special and something bigger than themselves,"  said UVA Track and Field head coach Vin Lananna, "It was clear that benny's story and his desire to join us is something really special for all of us."
Benny was diagnosed with lymphoblastic lymphoma in January 2022 at age 11. Benny began chemotherapy quickly after and is now in remission but that doesn't mean he is done with treatments. Benny is still undergoing maintenance chemotherapy. While Benny has returned to school now, he hasn't been able to fully rejoin school activities and normal life, meaning his involvement in the Track and Field team has become extra meaningful. As a member Benny will be able to attend certain practices and meets and develop a relationship with UVA student athletes. 
"You know all the normal things kids get to do, after school and extracurricular activities he hasn't been able to do for the last year so getting matched up through Team Impact UVA track and field team has meant a lot to him," explained Benny's father John Will.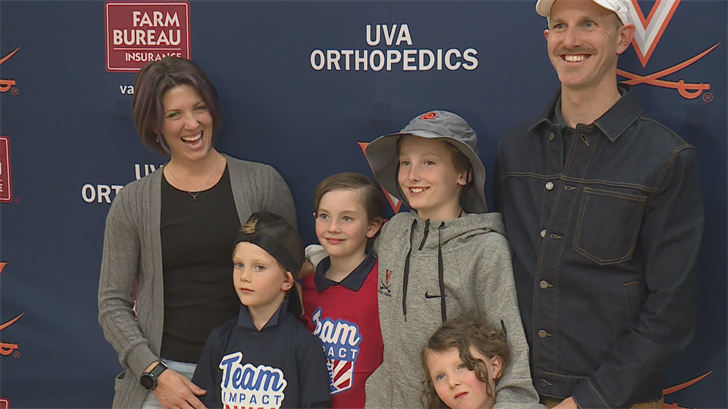 Benny isn't the only one benefiting from this partnership either, the experience has been equally meaningful for the UVA track and field members. Other UVA athletic teams such as volleyball, women's lacrosse and men's soccer have partnered with team impact but this is the Track and Field team's first time signing a Team Impact member. 
"I may have inspired them a little," explained Benny Will, "To like not give up and that you can always learn, you can always get better."
Team Impact was founded in 2011 with the goal of helping children with illnesses or disabilities. In just the last year Team Impact helped connect over 1,227 kids like Benny with college athletic teams.