News
Officials: Be patient around school buses, alert for pedestrians and bicyclists
Monday, August 21st 2023, 2:57 PM EDT
ALBEMARLE COUNTY, Va. (CBS19 NEWS) -- Schools in Charlottesville and Albemarle County are the last ones in this area to head back to class, and officials are urging everyone on the roads to be patient around school buses.
AAA Mid-Atlantic says this time of year is particularly dangerous due to the combination of young inexperienced drivers, school buses, and student pedestrians and bicyclists all being on the roads.
"Drivers may be out of practice when it comes to the rules of the road, with school buses hitting the streets and students walking and biking to school," said Morgan Dean, AAA Mid-Atlantic spokesman. "But our responsibility for keeping students safe hasn't changed."
Students should get to their bus stop at least five minutes early and look both ways before crossing the street, using crosswalks.
They need to wait for the bus to come to a complete stop and for the bus driver to signal that it is OK before getting on or off the bus.
Drivers need to always stop for school buses with flashing red lights and extended stop signs and slow down as they go through school zones, especially during arrival and dismissal times.
It is against the law in all 50 states to pass a stopped school bus that is loading or unloading children.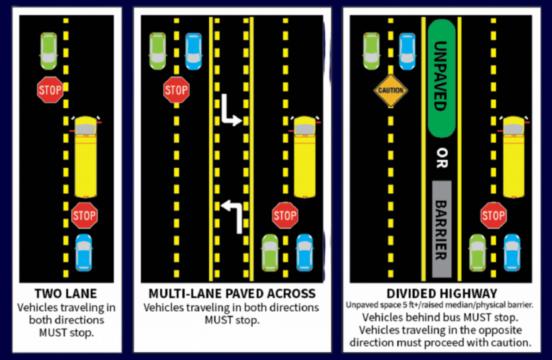 Though pedestrians are encouraged to use crosswalks, they may not, so drivers need to be on the lookout at all times near schools.
AAA says children can be quick, crossing the road unexpectedly or emerging suddenly from between two parked cars.
Pedestrians should also use sidewalks when available, but if they have to walk on the road, they need to walk facing oncoming traffic.
Cyclists ride in the same direction as traffic, so parents are encouraged to make sure their child has all the skills and knowledge necessary to ride safely. This includes understanding the rules of the road and how to properly signal to drivers if they intend to turn.
They also need to wear bike helmets anytime they are out on a bicycle, because helmets can help minimize the risk of injury if there should be a crash.
When it comes to parents picking up or dropping off their kids at school, parents are encouraged to not double park and to know their school's procedures regarding drop-off and pick-up.
Parents should not double park because it reduces visibility.
If possible, officials recommend parents find ways to carpool in order to reduce the number of vehicles that flow through the area around a school.
Children are reminded to never accept a ride from strangers, to tell an adult if there is someone hanging around school that does not work there and does not appear to be a parent, and to mention if they are the victim of or see other students being bullied.
Both Albemarle and Charlottesville students begin the academic year on Wednesday.