News
Redistricting process changes impact new maps
February 3rd, 7:26 PM EST
CHARLOTTESVILLE, Va. (CBS19 NEWS) -- New legislative maps, approved by the Virginia Supreme Court in December, changed how Central Virginia is represented in Richmond and in Washington, D.C.
The redistricting process this year was different than in years past. A bipartisan commission was adopted in 2020 through a state constitutional amendment, passed by voters, creating a new redistricting process.
When that process failed to meet deadlines, it moved to the courts, where the new maps were finally approved.
The new legislative maps were created by two special masters, appointed by the Virginia Supreme Court.
"I think one of the first things you would notice when looking at these maps, the lines are a lot less jagged, the districts are generally more compact," said J. Miles Coleman with the University of Virginia Center for Politics.
Locally, Charlottesville and the inner-most parts of Albemarle County, are in the 54th House of Delegates District. It is largely unchanged from the previous 57th District. Represented by Delegate Sally Hudson, it's basically the same district with a new name.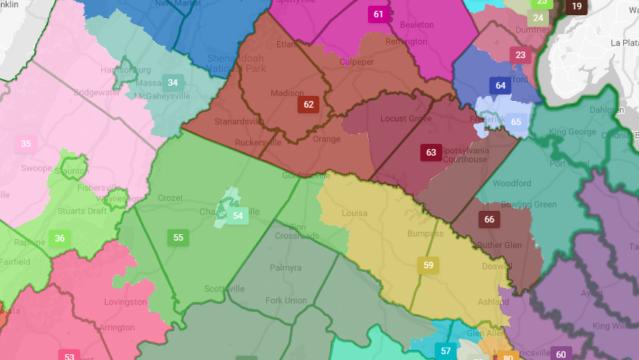 "I think Virginia voters got what they wanted. For the first time in Virginia history, we have maps drawn based on where the people live, and not the sitting politicians," said Hudson.
She said she is happy with how condensed the districts are compared to prior legislative maps. She said it allows constituents to more effectively make changes.
"If voters can't hold their elected officials accountable, that's when government goes off the rails," said Hudson. "When you've got these crazy districts that are stretched out all over, the people that live in them don't even know they're neighbors. They have no idea that they all belong to the same district, and so it makes it much harder for them when there is something going on for them, to band together and change it." 
In the case of state Senator Creigh Deeds, his district changed quite a bit. The Democrat now lives in the same district as two incumbent Republicans, in a district that usually votes for Republicans. He said the voters now get to pick their elected officials, instead of elected officials creating districts for themselves.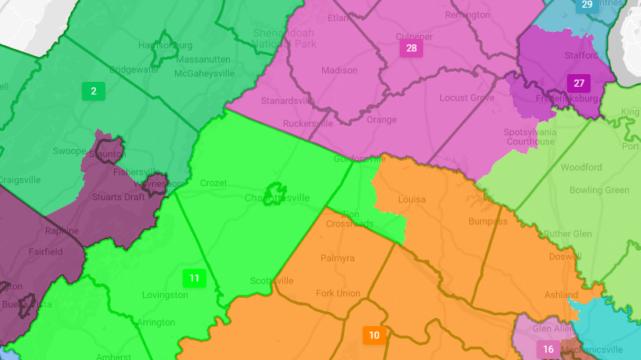 "I've always thought there's a conflict of interest built into a process when legislators get to decide what their districts look like," said Deeds.
He said he's moving to an area where many of the people he represents already live, the 11th Senate District.
"I'm looking for something right now to get in Charlottesville and I would anticipate that within the next few weeks or certainly the next few months, I will be moving to Charlottesville," said Deeds. "I'm not done serving. I still think I've got things to say, and things to do, so my choice is to run in the area where the majority of my present constituents are, and that's Charlottesville, Albemarle, and Nelson counties."
Both Hudson and Deeds agree that legislators have no part in creating their districts.
"I think you need politicians out of the process entirely," said Hudson.
"I think redistricting ought to be in the hands of an independent commission," said Deeds.
Delegate Rob Bell declined to speak for this story and Delegate John McGuire did not respond to a request for comment.
For more information and to view the maps, click here.